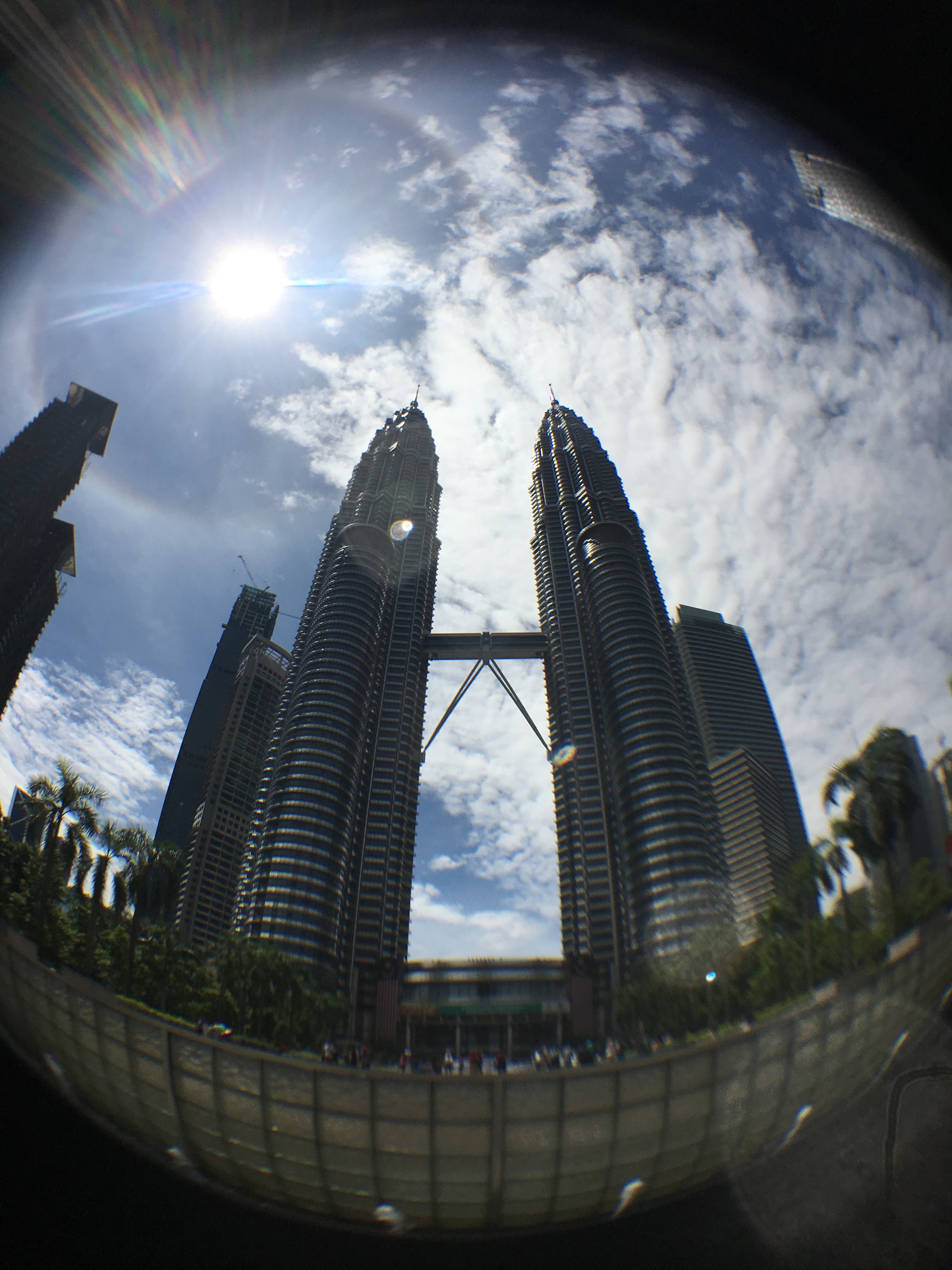 After spending two months in 🇨🇳 Beijing working as a summer intern, I've decided to revisit Malaysia. My perspectives are quite different this time than three years ago during my first visit, and I've picked 🇲🇾 Kuala Lumpur and Penang as my destinations. My sojourn in Malaysia has now come to an end, so here are a few things I'd love to share about Kuala Lumpur.
Try Grab
You've probably heard of Grab (formerly known as GrabTaxi), Southeast Asia's homegrown ride-hailing service. The unicorn was invested by quite a lot of companies, including SoftBank and China's Didi Chuxing, which earlier acquired its rival Uber China. Although Grab is now based in Singapore, it was originally founded in Malaysia. It's basically a localized version of Uber, which means it offers some localized features:
💵 Pay with cash – Considering mobile payments and credit cards are not as popular in SE Asia compared to more developed regions, Grab allows riders to pay drivers with cash. The good ol' days when cash was king! I had a lot of Malaysian ringgit bills to be spent while I was leaving KL, so I opted for cash for my Grab ride to the airport. If you don't want to disclose your vacation getaway itinerary to your credit card company, simply pay with ca$h 😉
🚖 Supports taxi rides – Similar to UberTAXI in the 🇺🇸 US and DidiTaxi (滴滴打车) in 🇨🇳 China, Grab offers the option to hail local 🚕 taxi rides ("GrabTaxi"). Why? Sometimes it's hard to get a Uber ride in the midnight (especially if your flight is early in the morning), and calling for a local taxi could be considerably helpful!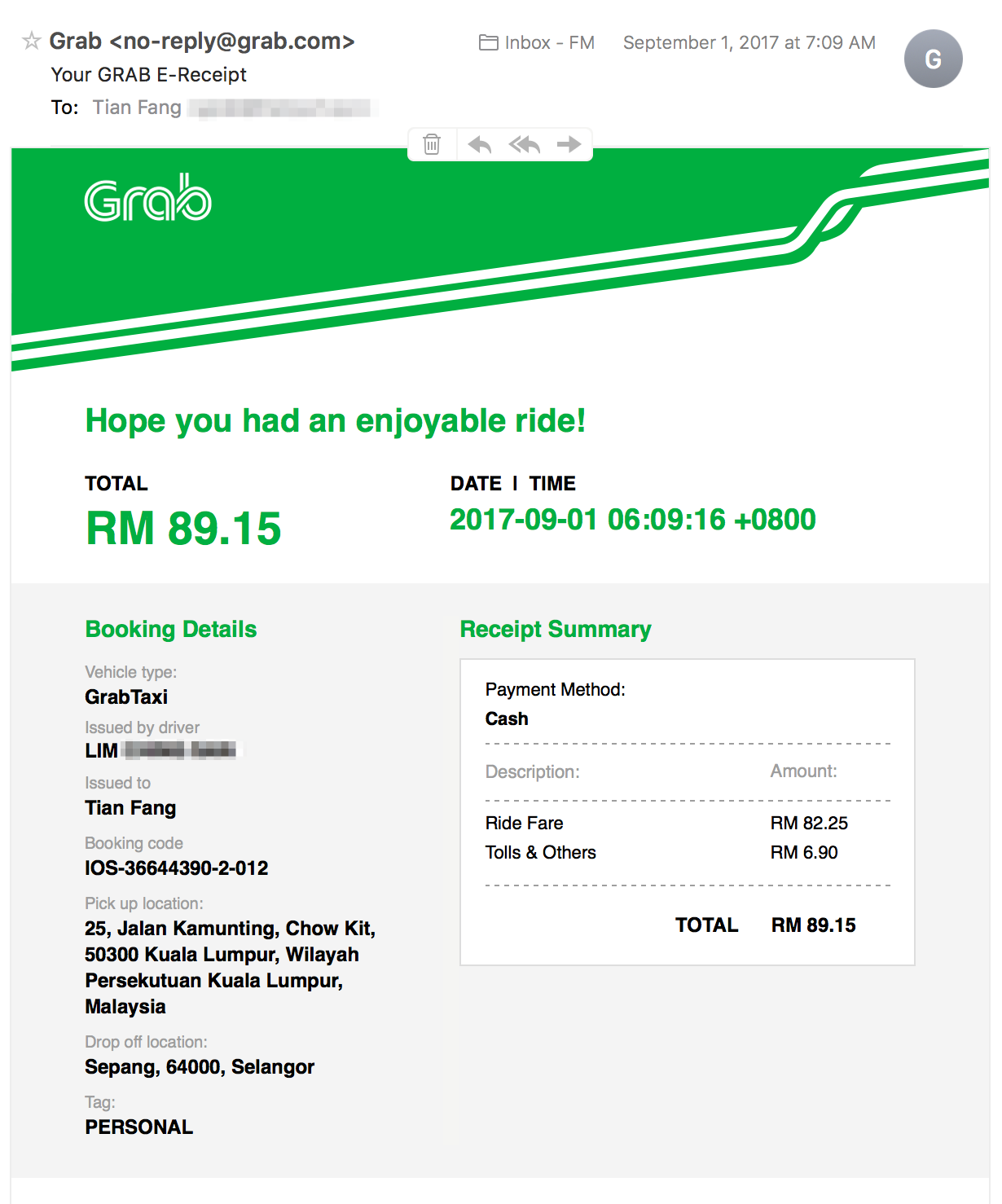 Real Multilingualism
You might have heard this joke a gazillion times 😆:
What do you call someone who speaks three languages? Trilingual. Two languages? Bilingual. One language? American.
While the Europeans (and French Canadians) love to make fun of the monolingualism in the USA, speaking more than one language is more common than I expected in Malaysia.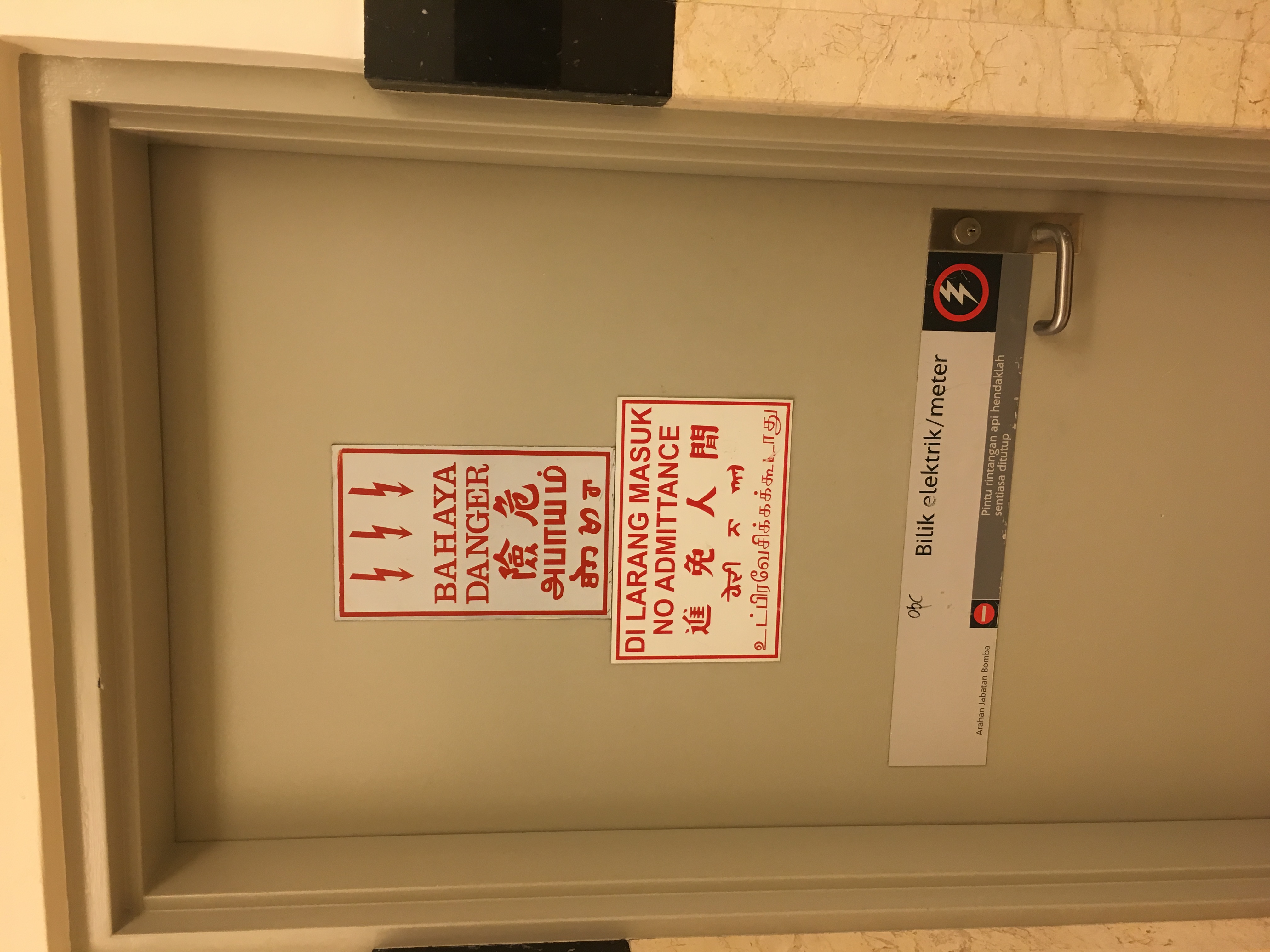 The official language of Malaysia is Bahasa Malaysia, although English is a de facto widely-used language. In contrast to my sojourn in 🇹🇭 Bangkok, Thailand where I had to let the hotel concierge talk to the Grab driver about where I was going, the majority of the Malaysian population speak English quite fluently, and by that I mean you are able to talk about economics with your taxi driver.
Because Malaysia has a significant Muslim population, Arabic is often available on street signs.
The native language of each ethnicity is well-preserved. The Malaysian population is comprised of various ethnic origins, including a significant number of Chinese and Tamil descents. For the Chinese Malays specifically, a huge ratio of them are able to speak, write, and/or understand their family's native language: Cantonese, Teochew dialect, Hokkien dialect, Mandarin, or other derivatives of the "Chinese" language. Uber even offers a Mandarin-speaking option called uberMandarin in certain regions in Malaysia.


In #Penang you can opt for Mandarin-speaking drivers when requesting a ride on @Uber! #Malaysia 🇲🇾 pic.twitter.com/vH8Vu0u304

— Tianyu M. Fang (@tianyuf) August 29, 2017
Bike-sharing in KL
If you've never tried the 🚲 colorful bikes ubiquitous on the streets in China (I've written a post about them last year), thanks to Singapore-based startup oBike, you can now try them out in Kuala Lumpur!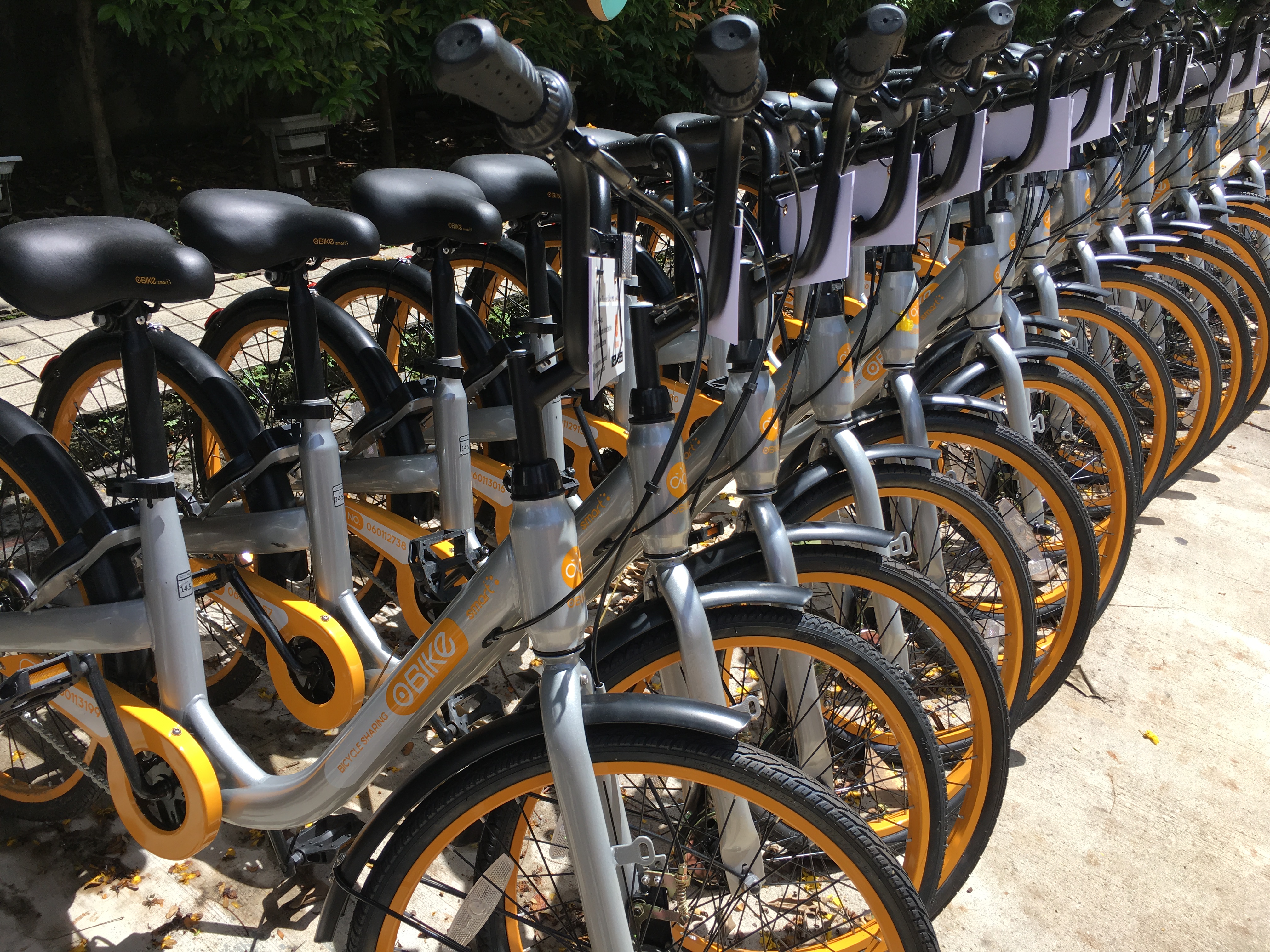 oBike is analogous to China's Mobike and Ofo:
Step 1: Get the 📱 oBike app & 💰 pay the deposit. The deposit is USD 49.99, and USD 19.99 if you have a valid student ID. I took a picture of my American student card and oBike verified it instantly.
Step 2: Find a bike, and scan the QRCode.
Step 3: Ride.
Step 4: Park it anywhere!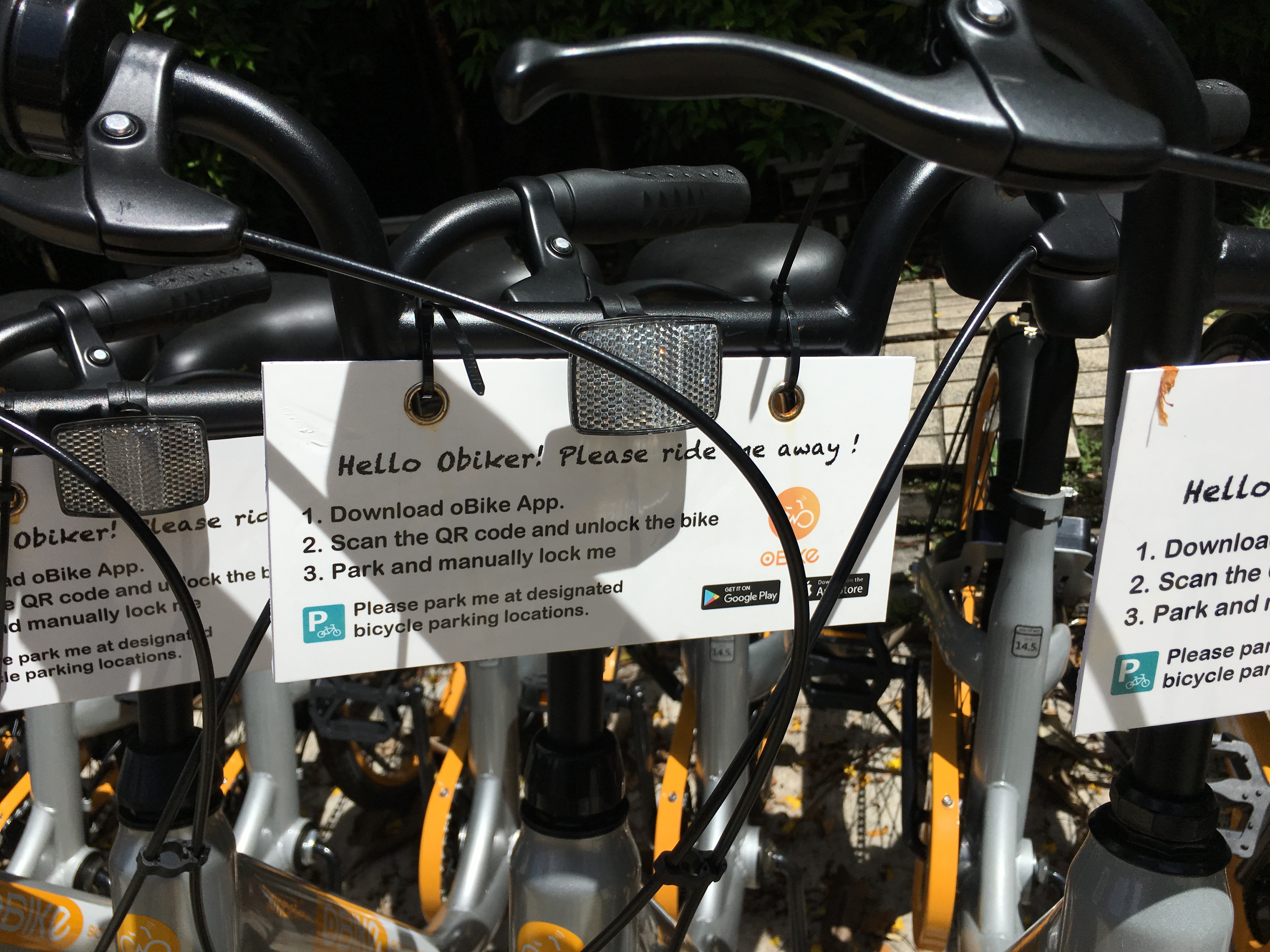 The 💰 rental cost is 1 ringgit (USD 0.23) per 15 minutes. A lot more expensive than the Chinese equivalents Mobike and Ofo, but still affordable. Well, I didn't really pay for my rides because of the ongoing promotion.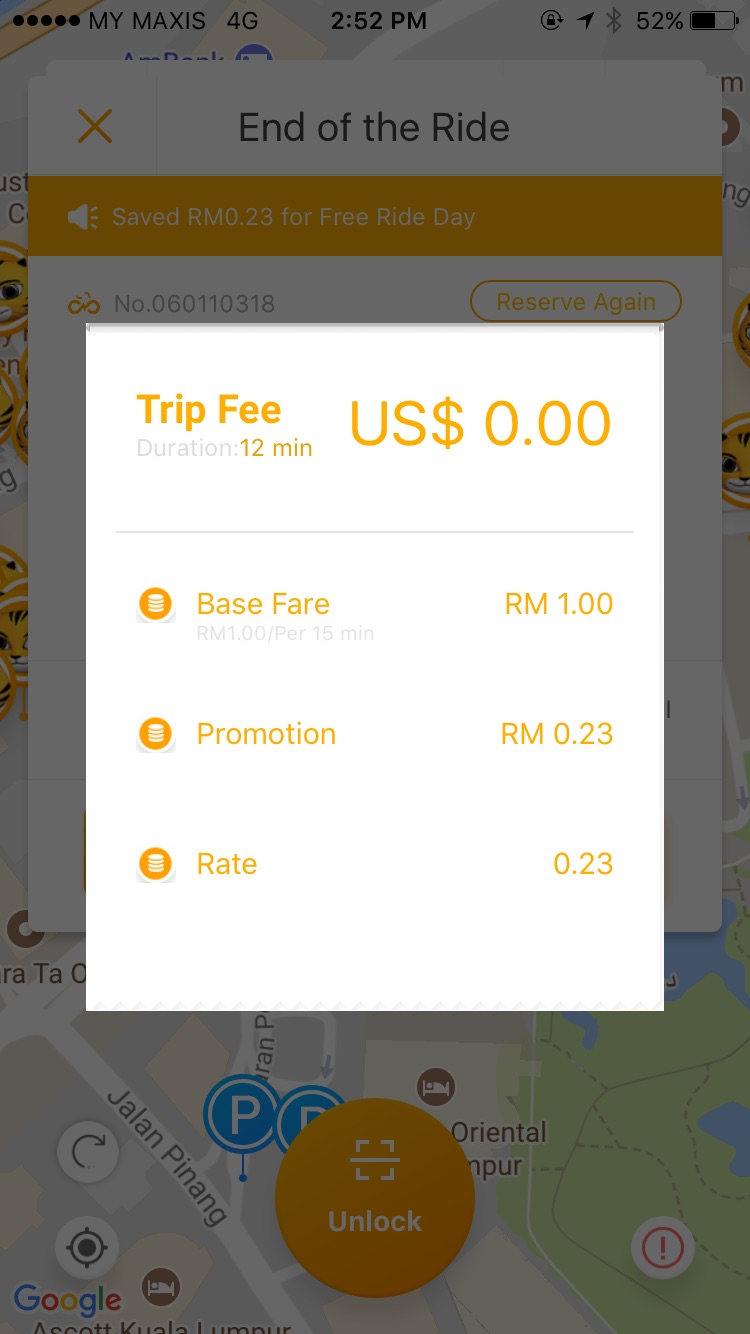 Also, I spotted a Chinese-language TV channel with a scrolling cryptocurrency ticker (with ICO news)…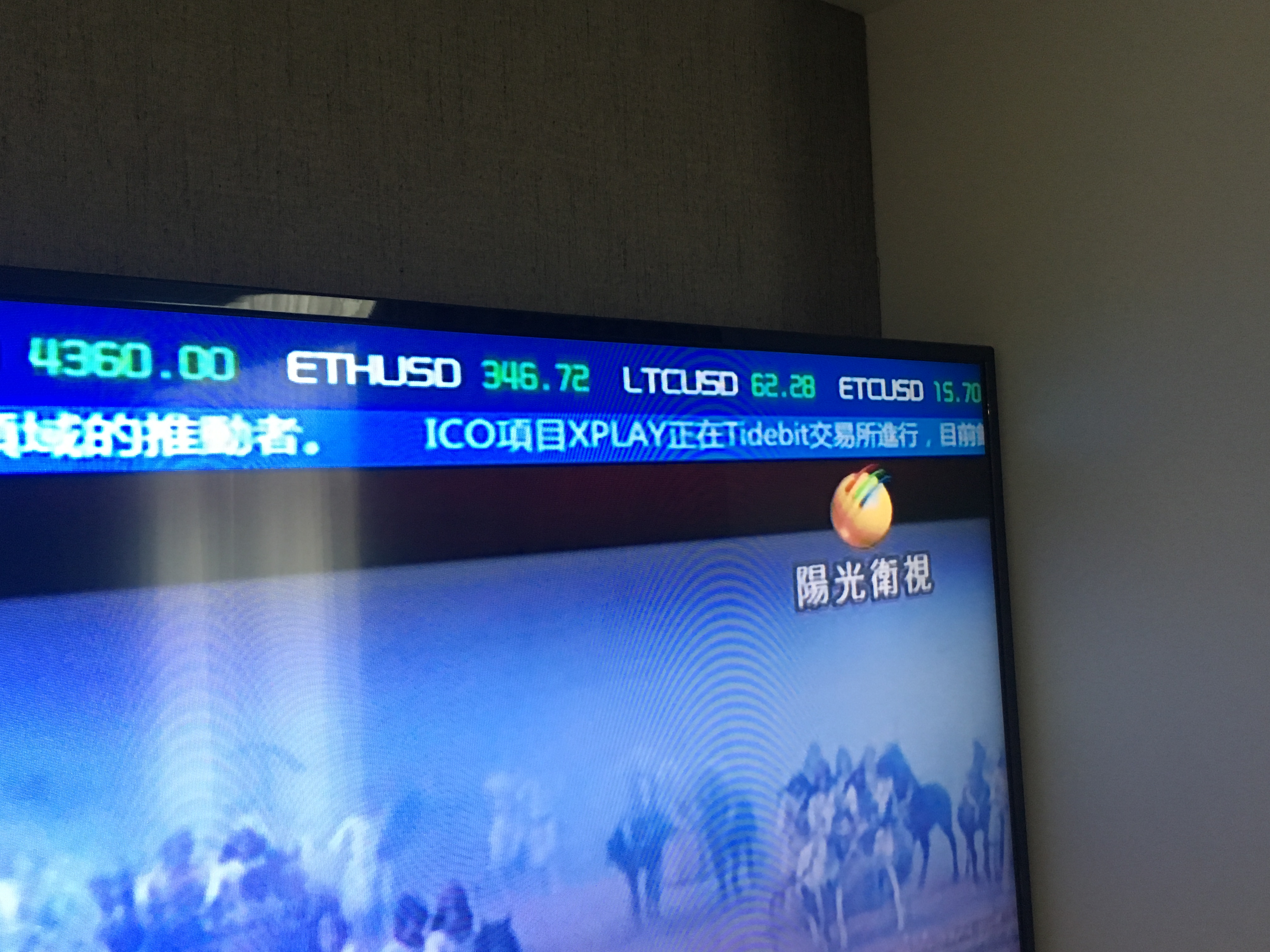 Good Chinese food
Make sure you try the Hainanese chicken rice and beef chow fun when in Kuala Lumpur!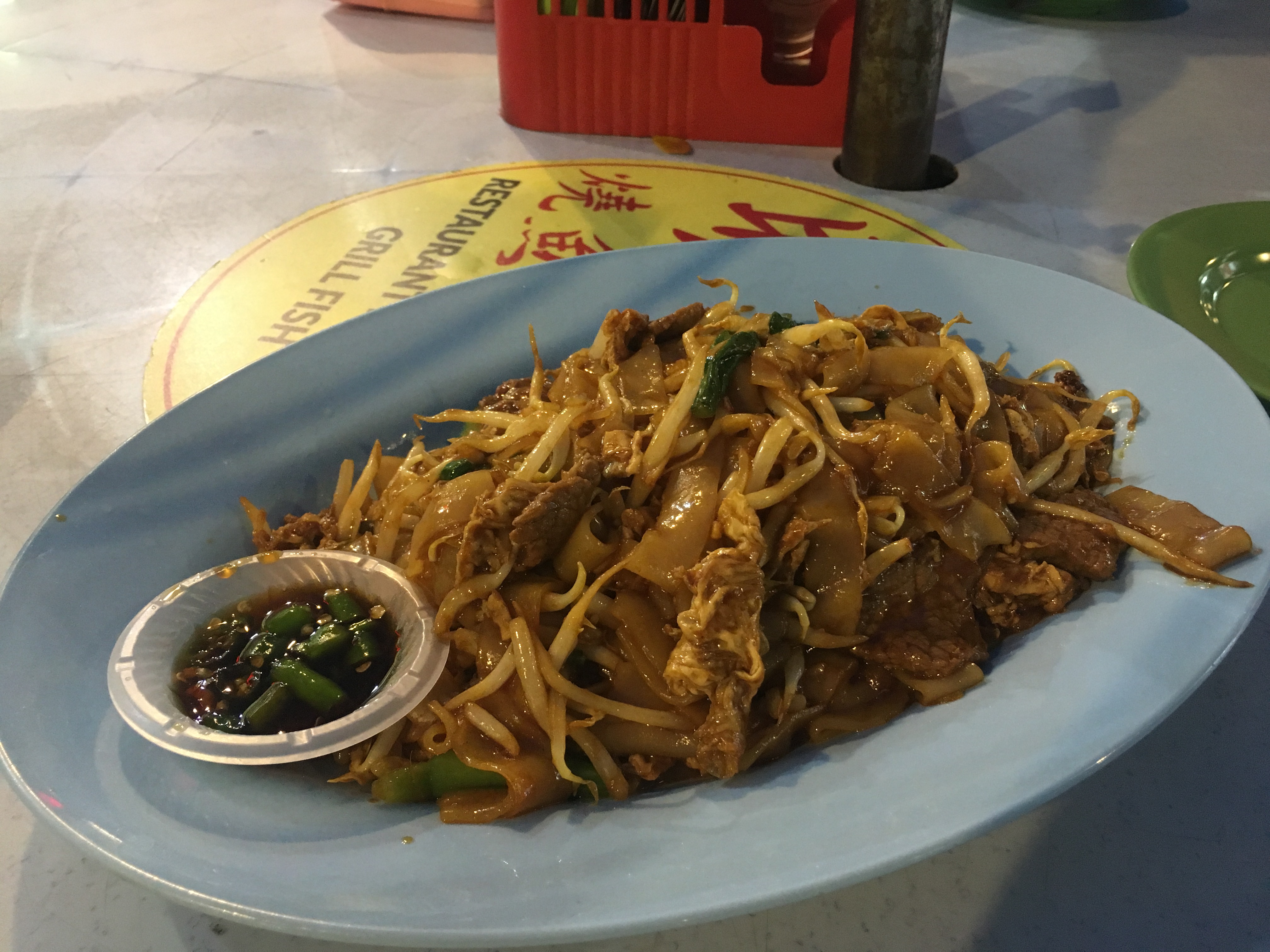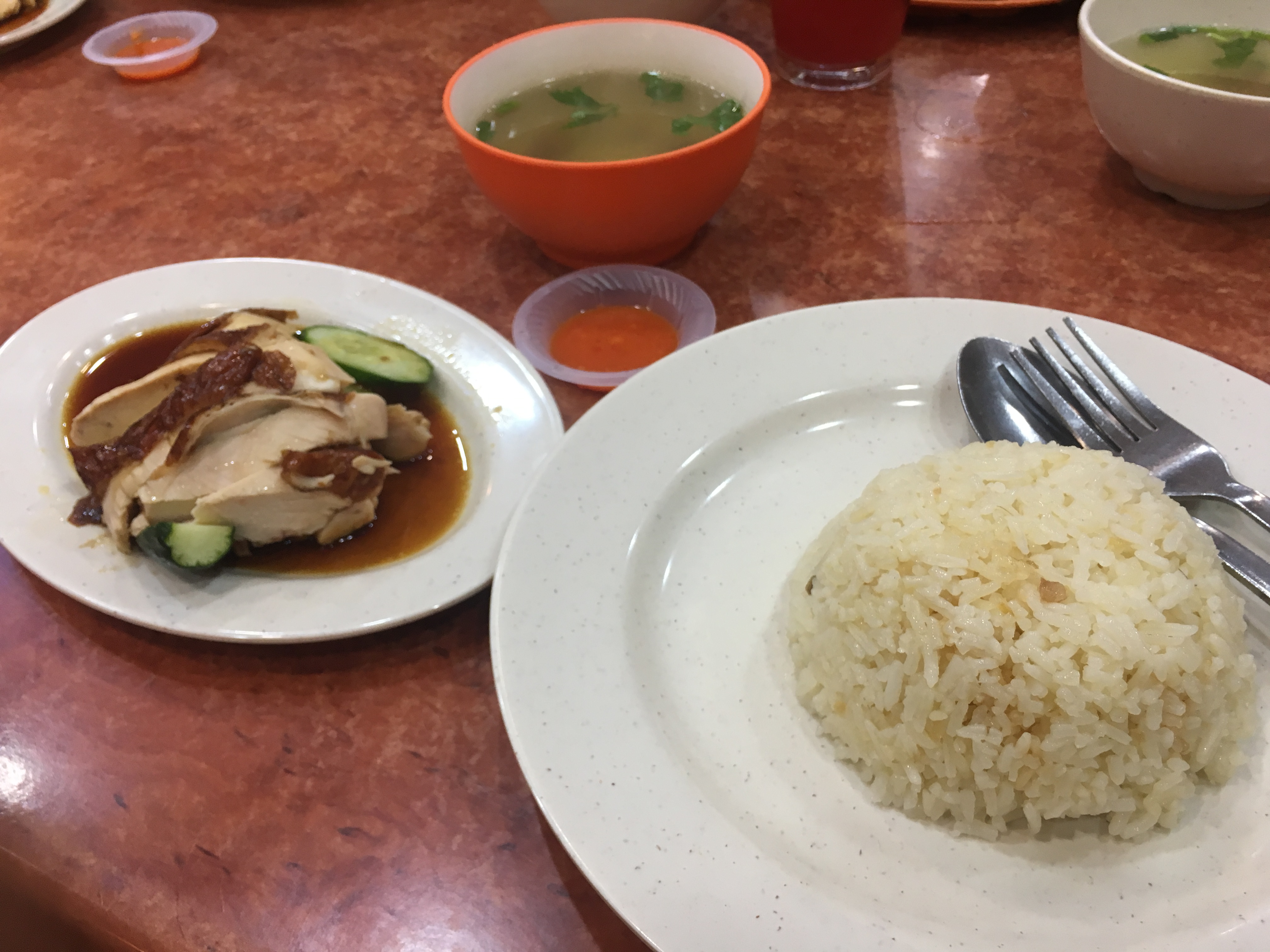 There are plenty of good options around Bukit Bintang (both restaurants and street foods). The price could be a bit touristy, though.
Regrets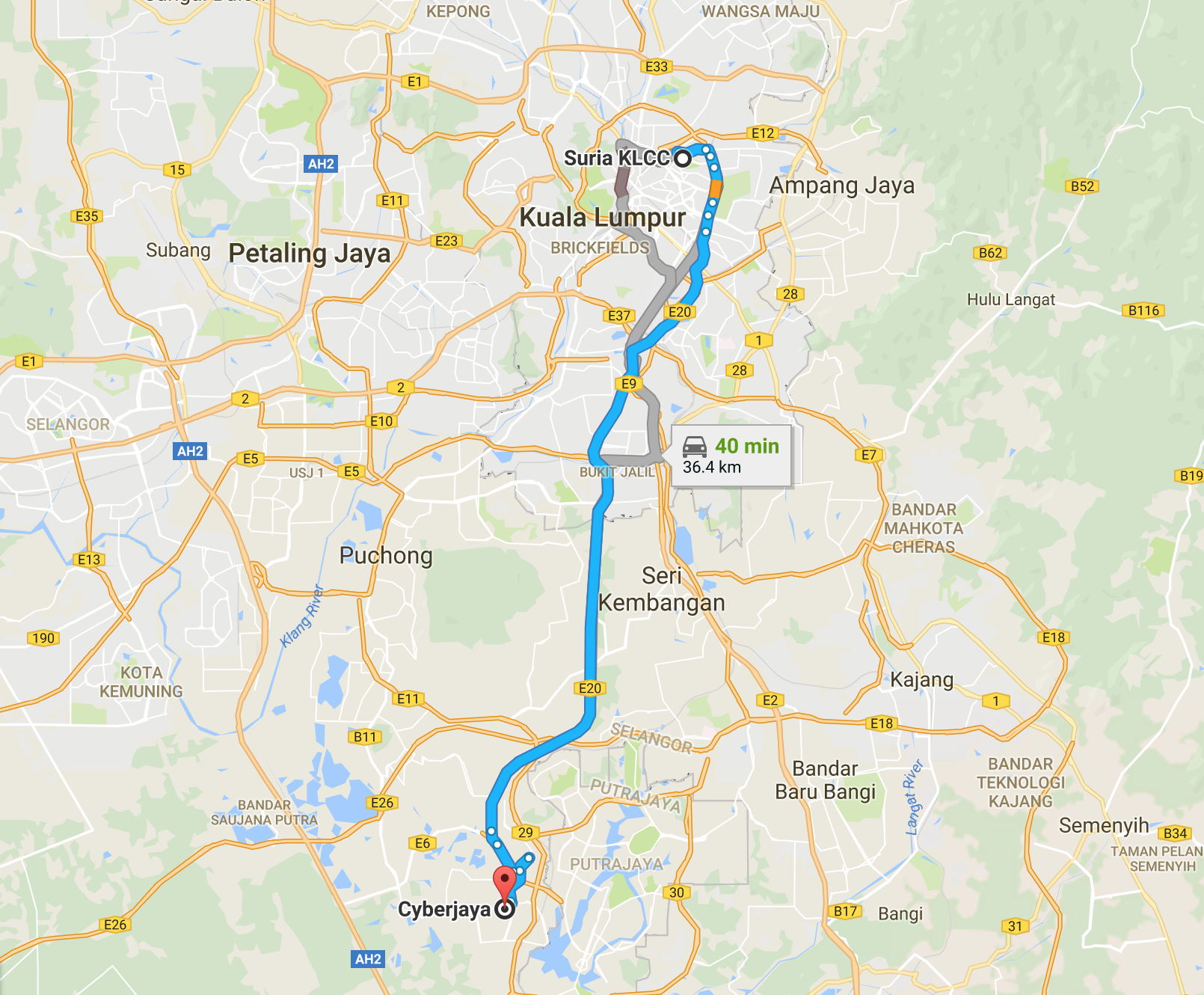 One place I really wanted to visit was Cyberjaya. It's 30 minutes drive away from Kuala Lumpur's city center, and right next to Putrajaya, the nation's administrative center. Cyberjaya has been known as the 🍎 Silicon Valley of Malaysia (and yes, emerging countries in Asia are all building their own Silicon Valleys), but the Malaysian government's blueprint didn't seem to work out perfectly well. Be that as it may, the tax-free policies and government support have appealed many multinational tech corporations and local entrepreneurs. The reason I chose not to pay a visit was that I don't know anyone in Cyberjaya who could show me around (or do I?), but if you're familiar with Cyberjaya and you're willing to tell me about it, feel free to shoot me 📧 an email (or simply reach me on Telegram)! Well anyway, I'll save it for my next visit to KL!